Responsible Guidance:


How the EIB Group ensures sustainability in its operations
---
The promotion of sustainable development underpins our lending strategy and objectives. We thoroughly examine the environmental and social risks and benefits in careful due diligence processes that are performed by the EIB's Projects Directorate or their contractual partners. These take place both before an investment decision is made and at later monitoring stages. This approach provides guidance on our sustainability standards to project managers internally and to project promoters and financing partners externally.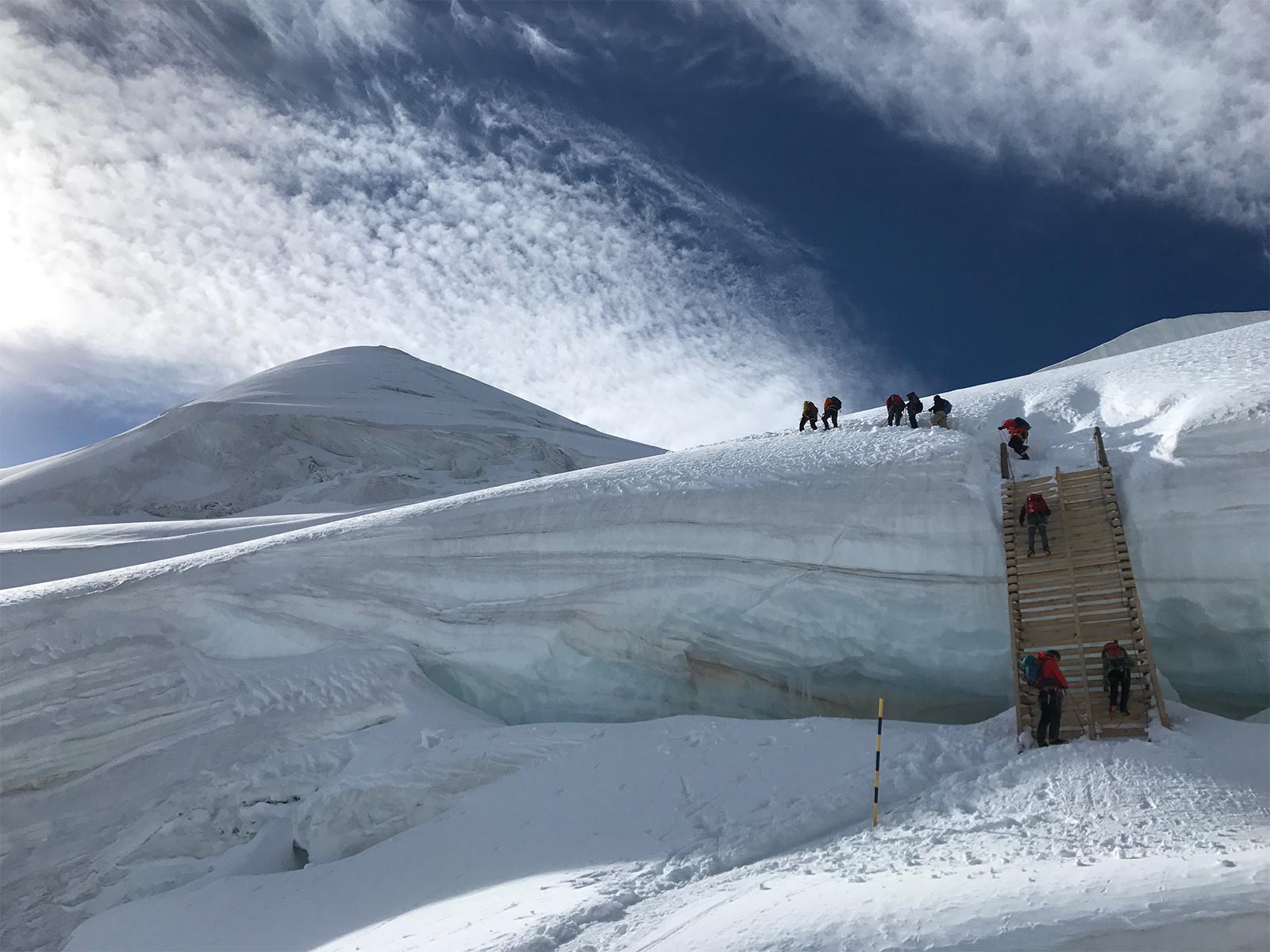 Meeting key environmental and social standards
Transparent project cycle
A large number of climate-related due diligence activities are carried out each year at the project appraisal stage – when project proposals and environmental impact assessments are appraised from technical, financial, economic, social and environmental perspectives. The outcome of the environmental and social assessments is summarised in an Environmental and Social Data Sheet as part of our commitment to transparency. Project-related environmental documents are available in the Public Register on our website.
The EIB project cycle, with due diligence at project appraisal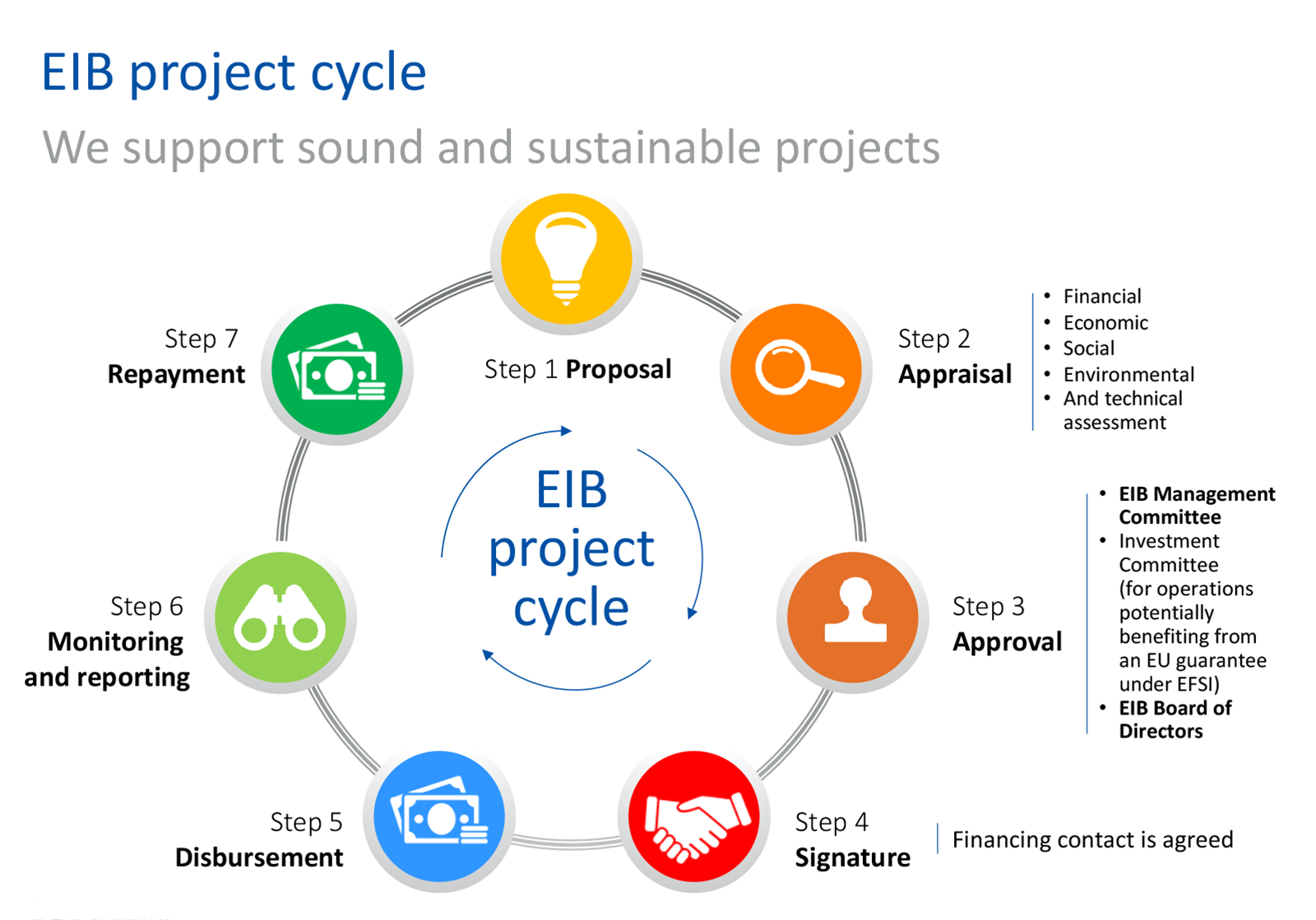 Climate mainstreaming: the carbon footprint of EIB projects
A climate due diligence process determines the actual expected GHG emissions from a project and the increase or reduction of greenhouse gas emissions resulting from a project. We apply our carbon footprinting methodology to all sectors, not only climate mitigation projects. For our Carbon Footprint Exercise, we estimate and report the greenhouse gas emissions from projects where emissions are expected to be significant, i.e. emissions above one or both of the following two thresholds:
Absolute emissions (actual emissions from the project) > 100 000 tonnes of CO2e per year for a standard year of the project's operations

Relative emissions (estimated emissions increases or reductions compared to the expected alternative) > 20 000 tonnes of CO2e per year

☑︎
Analysis of our Carbon Footprint Exercise suggests that these two thresholds capture approximately 95% of emissions from the EIB's investment projects. At the heart of our footprinting approach are the absolute emissions from each project. Whilst assessing and reporting emissions reductions and increases, which give an important indication of the emissions in comparison with other technologies or projects, we consider a project's absolute emissions to be a fundamental element, as these are what will ultimately affect our climate.
To review the total impact of our lending, we believe it is important to assess significant emissions from all sectors we fund, not only from green sectors. We include projects in our annual Carbon Footprint Exercise from the areas of conventional and renewable energy generation and networks, energy efficiency, transport, industry, water and solid waste, agriculture and forestry. This allows us to assess the contribution from each type of lending.
2017 project carbon footprinting
In 2017, 55 of the projects in the EIB portfolio* had estimated emissions above the absolute or relative emissions thresholds and were included in the 2017 Carbon Footprint Exercise. They represent total EIB signatures or allocation approvals of EUR 9.4 billion. The related total absolute greenhouse gas emissions are estimated at 5.2 million tonnes of CO2e per year, with carbon sequestration by forestry estimated at 0.3 million tonnes of CO2e per year. The overall reduced or avoided emissions from the same financing are estimated at 2.9 million tonnes of CO2e per year in accordance with the Carbon Footprint Exercise methodology. ☑︎

Project level data for projects included in the Carbon Footprint Exercise are reported in our Environmental and Social Data Sheets and published in our public register of environmental information. The table below shows the results of these aggregate figures for the last three years of EIB project carbon footprinting. The relative emissions figures show large overall savings of approximately 3 million tonnes of CO2e per year for the last three years. Overall, the EIB's investment projects continue to support a path of reduced emissions.
* Projects with a finance contract signed or large allocations approved in the year. Large allocations under already signed framework loans are those where the individual investment projects have undergone a full individual project appraisal.
Project carbon footprinting at the EIB, 2015–2017

☑︎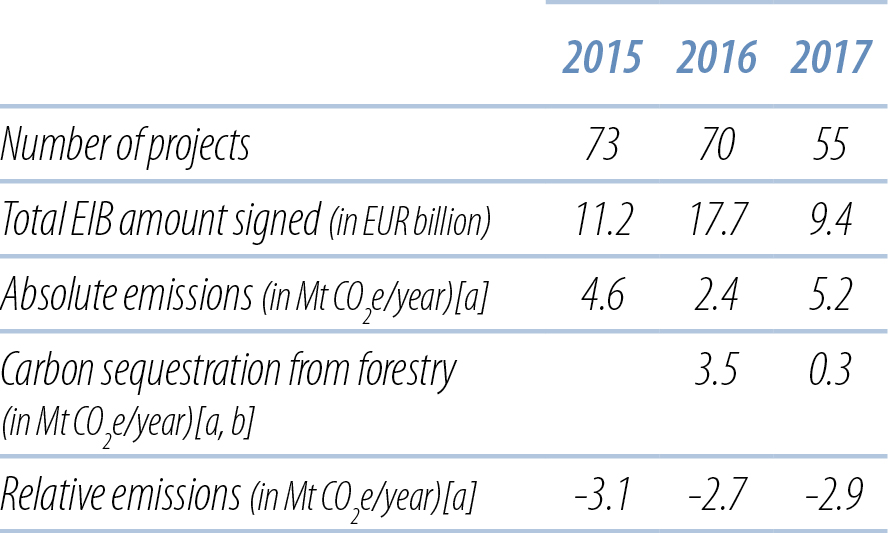 [a] Emissions and carbon sequestration are prorated to the EIB lending volume prior to aggregation. Total project emissions (absolute) and savings (relative) would be significantly larger.
[b] Prior to 2016, carbon sequestration was included in absolute emissions figures. In 2016, when carbon sequestration exceeded total emissions, these figures were presented separately.
Climate action: from strategy to implementation
The EIB Climate Strategy approved by the Board of Directors in 2015 indicated that the Bank would develop internal action plans detailing the activities to be taken to progress in three strategic areas: 1. Reinforcing the impact of our climate financing; 2. Building resilience to climate change; 3. Further integrating climate change considerations across all of the Bank's standards, methods and processes.
The ten action plans approved in 2017 organise in a coherent overall framework the ongoing and future actions needed to implement the strategy successfully. They are conceived as a planning tool to ensure progress in all areas, as they articulate the interpretation of the commitments and goals of the EIB Climate Strategy across the different EIB services involved and the activities needed to achieve those goals.
1. Climate Awareness & High Impact Climate Action
2. Proactive development of Climate Action pipeline
3. Financial innovation for climate action
4. Spur growth of Green Bond market
5. Climate risk screening for all new EIB operations
6. Increasing the portfolio of adaptation projects
7. Continuous improvement of mainstreaming "tools"
8. New or revised sector policies incorporating climate considerations
9. EIB portfolio: Valuing Risk from Climate Change
10. EIB Environmental Management System*
* Not covering EIB operations but EIB's own functioning