Introduction


Financing global impact
---
EUR 23 bn
investment supported outside the EU
---
17 million people
benefiting from safer water and improved sanitation
---
Electricity from renewables enough for
6

million homes
---
542 000 jobs sustained
in smaller businesses through better access to finance
---
345 million journeys per year
on improved public transport
The EIB works to support projects all around the world that have real, tangible development impacts. That is the focus of this report. As an EU institution and the world's largest multilateral lender, the Bank has a unique capability to mobilise resources and expertise to achieve EU objectives. As the EU bank, we are dedicated to providing the finance needed to achieve EU Member States' common goals outside the EU.
This report describes both the results that we expect from the new projects supported in 2017, and the impacts that many older projects have already made possible. It examines how we:
contribute to the achievement of the Sustainable Development Goals (SDGs);
tackle the immense challenge posed by climate change;
enhance economic resilience in Europe's neighbouring regions;
use impact financing to be able to target riskier, higher-impact projects, particularly in the African, Caribbean and Pacific (ACP) regions.
In addition, this report focuses on the contribution that the EIB makes: what we are able to offer in terms of finance and expertise that goes beyond what is otherwise available on local markets.
---
New projects financed in 2017
In 2017, the EIB signed financing contracts for 100 new projects outside the EU and EFTA, with total approved financing of EUR 7.167bn. [1] This will enable total investments of EUR 22.9bn to take place.
[1] "New projects" are those for which the first financing contract was signed in 2017. For each of these projects, the full, approved financing amount is reported. These figures may therefore differ from those presented in other EIB publications: see for details. This report does not cover lending to EFTA countries.
100
New projects signed in 2017
EUR7.2bn
Financing for new projects signed in 2017
(approved amount)
EUR22.9bn
Investment supported by new projects signed in 2017
This is a notable increase in the number of new projects (from 87 in 2016), but a decline in the total lending volume. In part, this is a result of the Bank's efforts to appraise more projects, even when they are smaller, and a shift towards more projects such as guarantees and equity investments that are small in lending terms but have a high impact in terms of risk-absorption and catalytic effect. It also reflects the uncertain situation in Turkey as well as a drop-off in volume with the full delivery of the EUR 3bn Ukraine Action Plan for 2014-2016. Technical assistance and advisory activities have also increased significantly in non-EU countries, particularly in the Neighbourhood and Western Balkan regions.
---
New projects by region [2]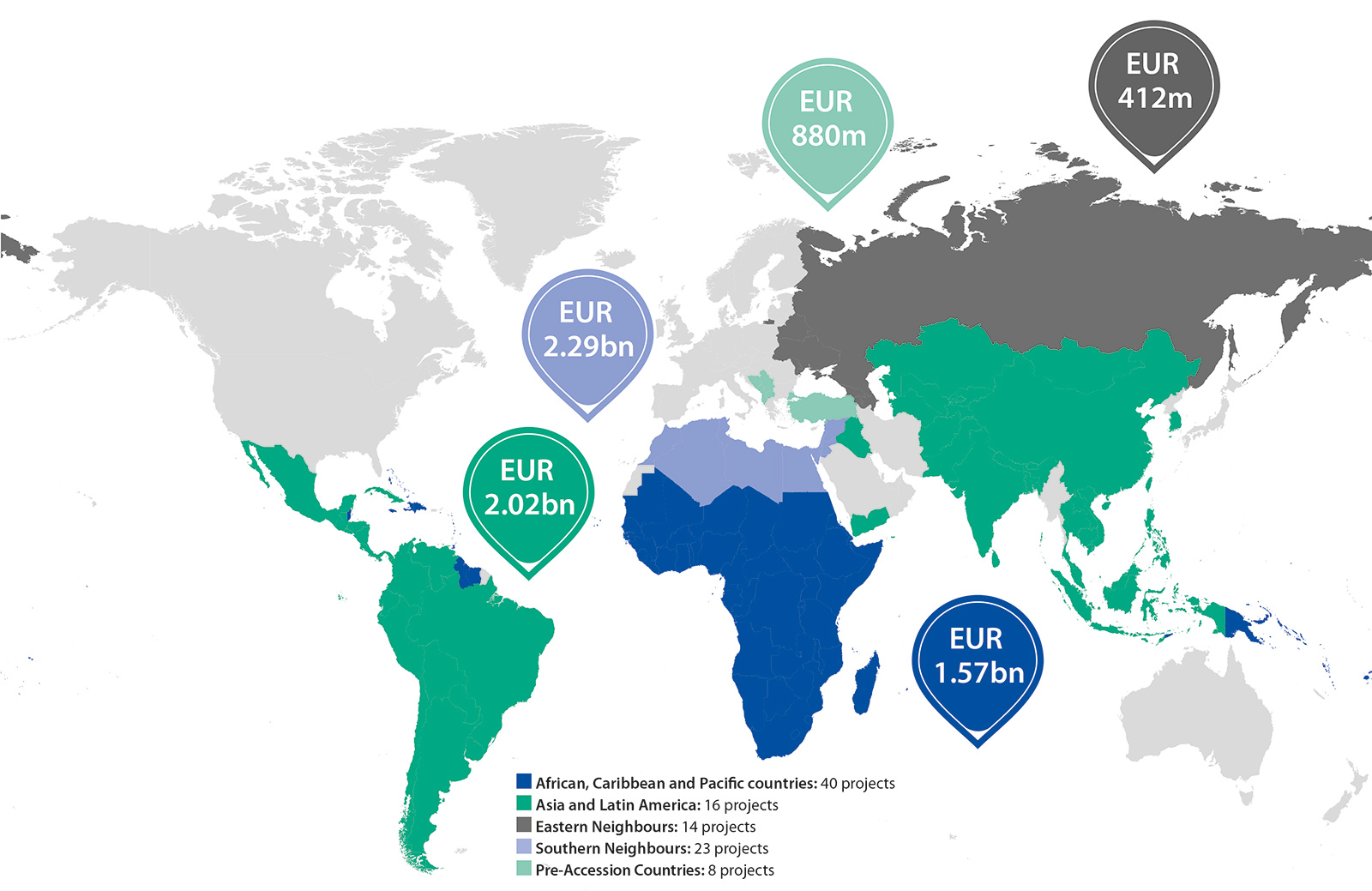 By contrast, lending in ACP countries increased quite dramatically, from 33 projects worth EUR 762m to 40 with total approved lending of EUR 1.6bn. Lending also increased substantially in Asia and Latin America where climate action is a strong focus, and in Southern Neighbourhood countries, which benefit (along with Western Balkan countries) from the EIB's recently approved Economic Resilience Initiative. The number of projects in Eastern Neighbourhood countries was stable but projects tended to be smaller than in 2016.
Challenges such as mitigating and adapting to climate change globally and the implementation of the SDGs will require unprecedented levels of international cooperation, of which financing for investment will be a critical part. There is a need for further coordination by both public and private sectors for the provision of infrastructure and basic services and for the development of a dynamic private sector that can create employment and raise standards of living.
[2] One project spans more than one region and is therefore counted twice, although lending is prorated by region.
New lending by mandate objective [3]
Social and economic infrastructure
EUR 3.8bn
Through 47 projects
Providing essential services in sectors such as energy, transport, water, education and health
Climate change mitigation and adaptation
EUR 2.6bn
Through 73 projects
Investing in a low-carbon economy and climate resilience
Local private sector development
EUR 3.4bn
Through 58 projects
Enhancing access to finance, particularly for SMEs and microenterprises
Regional integration
EUR 436m
Through 10 projects
Strengthening links among partner countries and with the EU
The EIB plays a critical role by supporting investments from both the public and private sectors that fulfil the mandate objectives set by the External Lending Mandate and the Cotonou Agreement. All EIB projects outside the EU need to:
address the objective of developing social and economic infrastructure;
or support local private sector development.
Climate change mitigation and adaptation, as well as regional integration, are cross-cutting objectives. Wherever needed, the EIB seeks to work in partnership with other institutions to catalyse further financing sources and technical support, including blending the Bank's financing with third-party funding in the form of grants, to enable projects which could not otherwise go ahead to be implemented.
New lending outside the EU in 2017 maintained a fairly even split between support for social and economic infrastructure and support for local private sector development, with a small shift towards infrastructure. Lending for climate change mitigation and adaptation benefited from a significant boost, rising to EUR 2.6bn, from EUR 1.9bn last year. Climate action lending was mostly focused on the transport and energy sectors. Projects supporting regional integration tend to be a feature of lending to pre-accession countries. The volume of lending supporting this supplementary objective suffered from the slowdown of lending to Turkey.
Support for lending to SMEs remained the largest single area of focus. Transport was again the infrastructure sector that received the most support, but lending to the energy and water sectors grew in importance. Financing for some types of operation such as microfinance or equity investments typically involves quite low volumes per project, but a disproportionate EIB contribution in terms of risk-absorption or technical advice. A single equity investment in a is a good example of how a small EIB investment can potentially make a very big difference.
[3] Many projects support more than one objective. Contributions to each objective by project are detailed in .
What are we financing? New lending by sector